/ YM2610 parked - no start - no power with key and clutch for light on gauges
#1
Well, I knew something had to go in time. I've been using the machine for much of the Summer and now Fall with the key to off while running it. The electrical will not charge the battery.
The alternator puffed a tad bit of smoke. The CHG lamp sometimes glows a dim light and others times nothing, even with a fully charge battery.
In the Service Manual for the YM2500/YM2610, this page is helpful. But not now as it's dark outside and cold. brrrr. In the late morning maybe.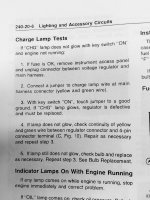 Yes, I need to get the alternator tested. Was waiting to land a job to get replacement parts. It might happen in the early next year. bummer.