/ Mahindra 5010 FEL Joystick broke!!!
#1
Seems the little cast iron (I'm guessing) anchor for the FEL joystick broke on my 2012 Mahindra 5010 this weekend right before being able to drag some logs out of the woods I'd just bucked up. No idea how it happened as a friend was running the tractor for me but when he returned from dropping off some logs the FEL jostick was flopping around.
I pulled off the boot covering it and saw the issue. There are two valves connected to a plate via bolts and a 3rd bolt is connected to this cast iron looking bracket -- that bracket was broken in half and flopping about.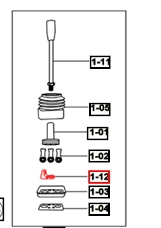 Looking at the Mahindra diagram and it appears it's this 1-12 'bracket' but I can't be certain. I forgot to get pics of it (too busy trying to see if it could be fixed -- it could not so I went back to work.
With luck, I can get the part I need quickly enough to get it back in action so I can move my logs, clean up my slash and get back to making sawdust before the snow flies!
Anyone else had this kind of thing happen?