/ John Deere 261 Finish Mower Idler Pulley replacements
#1
It seems that the previous owner neglected this heavy duty mower for about 7-years outside in the rain, frost and lite snow. It was a home to rabbits under the deck and squirrels living under the pulley deck cover. Now it's mine.
In the past year, I've done a complete power washing, sharpened the blades, and a new first belt. It squealed like a pig. I thought that was normal until the first belt went in a weeks time.
I just added another new B-147 belt and it had ran a little longer. My logic was, the mower was sitting so long, it needs to be worked a bit to free everything up. :confused2:
OK, this summer, I had replaced a V-pulley guide. The bearings just self destructed. It was easy enough as Tractor Supply had one that is nearly identical. This task removed the annoying pig squealing.
Fast forward to this week as I went mowing the pasture at the end of the season down here, the belt had started SMOKING. I had then torn the mower apart once again. The two flat idle pulleys seized up their bearings now.
The problem is, these pulleys are not cheap at all, nor the size readily available. The flat pulley diameter is an odd 5.5-inches vs. the standard 5-inches found on most mowers.
So, has anyone ever taken the rivets out of a flanged flat pulley to just replace the bearings? If so, what did you use to fasten the two halves back together again?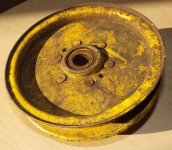 Here is the JD-261 belt and pulley install diagram too.